Trash Pick Up, October 2010
On Saturday, October 9, 2010, Cotati Creek Critters hosted a collaborative Trash Pick Up day to rescue trash out of the Laguna de Santa Rosa channel in Cotati and Rohnert Park before it gets washed downstream in winter rains, into the heart of the Laguna, the Russian River, and the Pacific Ocean.
We started at two locations simultaneously, and covered over 1.5 miles from Liman Way to Commerce Blvd. Altogether over 55 people participated and removed a total of 635 gallons of rubbish out of the Laguna channel.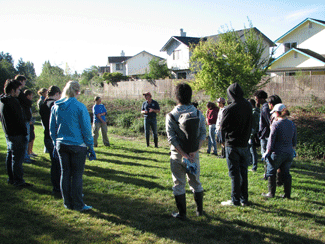 Before we begin - photo courtesy of Kate Symonds, USFWS